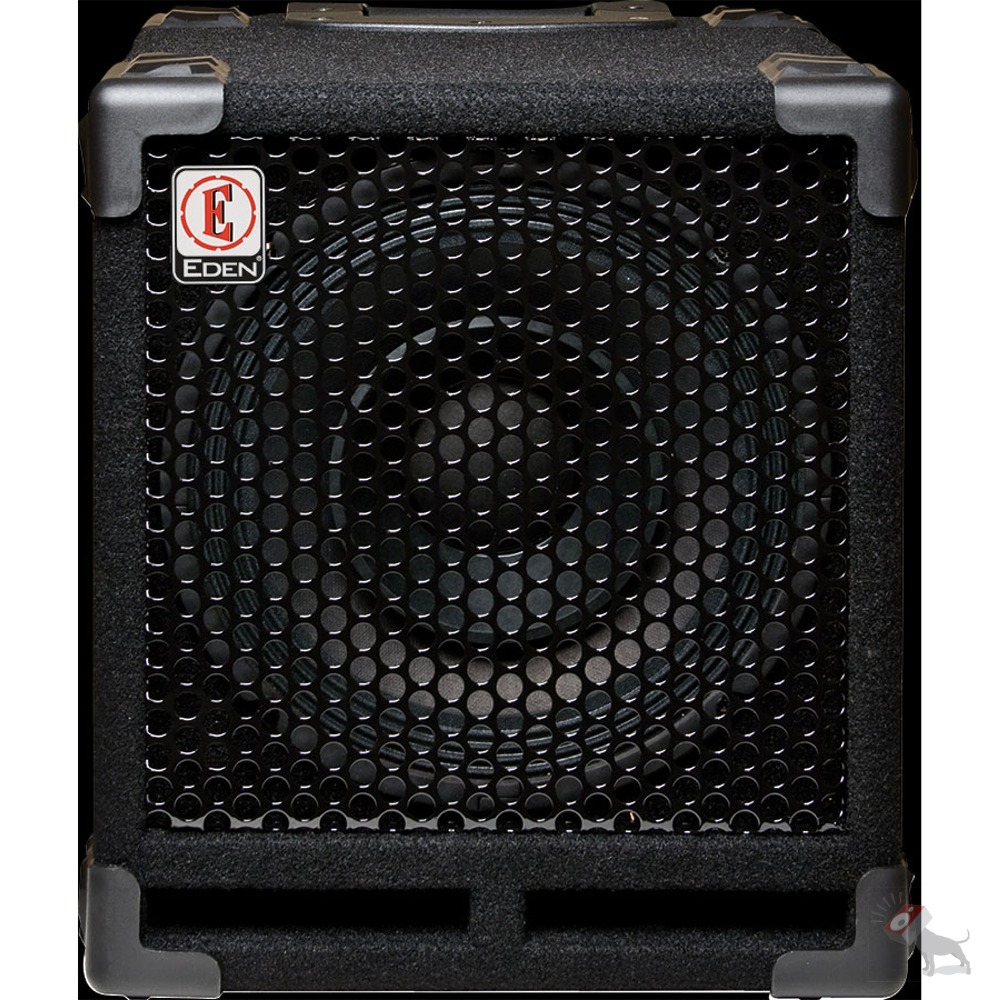 A bass cabinet can be a bit tricky to pick, as you need to almost always take it for a spin to know whether it's good or not. What you should be looking at first is portability, durability, and affordability. Without a doubt, Eden EX-110-8-U is one of the most reliable bass speaker cabinets on the market, and it can be yours for cheap. Eden started out in 1976 as a team of dedicated sound engineers that wanted nothing more but to manufacture some A-grade musical equipment. The high quality of their hardware and the affordable price-tags allowed the company to rise to the pedestal fairly quickly. Today, they are equally loved and respected.
Plus, you can find their equipment in 60+ regions around the globe. Of all the bass cabinets made by Eden, EX-110-8-U will be best suited for the beginners. Yes, if you're just starting out and need to practice a lot, this cabinet right here will make sure your guitar and amp sound the best way possible. It weighs 31 pounds, which equals 13 kilograms. You might think that this is too heavy, but for a bass cabinet, it's more than normal, especially given the fact that it's also quite tall. Besides, it's probably going to be sitting in your studio or bedroom all day! Amp heads can weigh less than 1 kilogram; that's not possible with cabinets.
Eden EX-110-8-U – What's It All About?
Speaking of the size, let us say real quick that Eden EX-110-8-U is almost like an ideal cube and will look good in any interior. It won't be hard for you to find a spot for it in your room; plus, an amp head can be placed on top of this cabinet. The body is made of plywood, not plastic; plus, there's a metallic grille on the front to protect the speaker. Overall, the durability and reliability of this cabinet are above the charts, especially for equipment in this price range. Furthermore, it looks quite stylish with those retro vibes. The 10-inch speaker is capable of great things. It's full-range, and despite the fact that we usually recommend 12-inchers for bass, it does manage to impress.
For gigs in small venues, Eden EX-110-8-U will be loud enough to cut through a shouting crowd and/or a wall of guitars and banging drums. Under the hood, the bass cabinet features 300 Watts. Keep in mind, though, that those watts will require a lot of electricity to run. Oh and there's a cool handle on the very top. Again, if it's going to be sitting around 24/7, that won't be big news for you. On the other hand, if you're planning on using it as touring gear, then this handle will be greatly appreciated. Bass cabinets might not be the most important parts of the musical chain, but they do have a huge impact on the final sound.
The Verdict – Is It Worth It or Not?
In order to answer that question, we'll need to check it in real action, so to speak. Eden EX-110-8-U manages to provide a full range of bass frequencies on that 10-inch speaker. And while the highs aren't really that important to a beginner-level bass player, when you move on to disco and bass, you'll thank Eden for making sure those mids and highs shine through and give you additional groove. Yes, the cabinet could've been a bit louder, but if you've got a decent setup in your room/studio, then it will be more than enough to fill up an entire room. It is lightweight, easy to work with, and even features a Whizzer cone that makes everything sounds better.
The grill is kick-proof; the design is lovely; the handle is a God-sent. As far as the best low-budget bass cabinets go, Eden EX-110-8-U is right there among the leaders of the race. Clarity is probably the biggest selling point of this model, as it's very difficult to achieve that with a less-than-expensive piece of equipment.