Motorola ATRIX 4G Specs at a look:
Nvidia Tegra 2 dual-core 1 GHz processor
1 GB RAM and 16 GB internal memory
HSPA+ 4G compatibility with AT&T
4 inch qHD display
5 MP rear camera with LED flash
VGA front-facing camera
Fingerprint scanning security (located on the back of the device)
Android 2.2 (Froyo) with MotoBlur
Wi-Fi b/g/n
Bluetooth 2.1 + EDR
1930 mAh battery for 9 hours talk time
Motorola unveiled its new Smartphone ARTIX 4G at CES 2011, the Phone is coming with some exciting features. This dual-core Android superphone not only outputs whatever is on its display to separate laptop and home media docks, it launches a whole separate webtop application that delivers a full HTML browser (Firefox 3.6). You can even see both the phone and webtop interfaces at once, which can interact in clever ways.
The ATRIX 4G features a 4-inch capacitive touchscreen display, and a dual-core Tegra 2 processor under the hood. It's running Android 2.2, and while it may not be the latest build of Android, it has plenty of extra features. First and foremost, the laptop dock which allows user to connect the Device as well as plug in a keyboard and a mouse. Coupled with a whopping 1GB of RAM, this CPU is capable of 1080p video playback and smooth Flash performance. The device sports both front- and rear-facing cameras and can record HD video. The qHD display (960 x 540 pixels) isn't as gorgeous as a Super AMOLED panel, but menus and web sites looked bright and colorful. For the security conscious, a unique and convenient biometric fingerprint reader is there for unlocking the phone. The 4G in this phone's name means the handset will tap into AT&T's HSPA+ network for enhanced speeds up to 6 Mbps.
Once we plugged the device in, we were escorted through the main features of the set-up. Accessing the phone's features, like the separate homescreens, and even applications, is easy through the representation of the device on the dock's display. You can launch and use some applications, like the Browser and even games.
The dock features a 11.6-inch screen and a chiclet-style keyboard that felt solid but somewhat scrunched. It's definitely not full size. You also get two touch buttons and a trackpad that worked well when we briefly surfed the web.
Motorola's webtop app lets you surf the full web, enjoy Flash sites, and even run Android apps like Citrix Receiver. Those with a Citrix account can run full Windows right on this Android device, which was pretty wild to see in action.
In docked mode you can use Android apps at full screen, or place the phone screen on the left and web interface on the right. You can even leverage both interfaces at the same time, such as looking up a business in the browser and then dialing it on the phone.
As of right now, with this demo as evidence, Motorola's statement that the ATRIX 4G is the world's most powerful smartphone may be true. Other features like the fingerprint sensor, which works as both security and the method to power on the device from sleep mode. And he price of the phone yet to be released then we see the phone worth it. anyway check out the video below to see complete usages of the Device.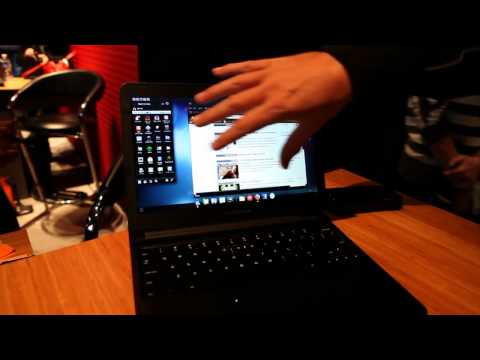 Our users have shown interest in: