According to different sources the first solar eclipse of 2011 occurs at the Moon's ascending node in eastern Sagittarius. A partial eclipse will be visible from much of Europe, North Africa and central Asia. It has been predicted that 2011 will meet four solar and two total lunar eclipses in different parts of the World.
A partial solar eclipse is not as spectacular as a total eclipse, when the suns is complitely covered by the moon, yet tomorrow's astronomical event will be impressive too as the sun will be covered by almost two-thirds.
A solar eclipse occurs when the moon passes between the sun and the earth and the moon covers the sun as viewed from the earth. An eclipse happens only during a new moon, when the sun and the moon are in conjunction.
The penumbral shadow first touches Earth's surface in northern Algeria at 06:40:11 UT. As the shadow travels east, Western Europe will be treated to a partial eclipse at sunrise. The eclipse magnitude from European cities like Madrid (0.576), Paris (0.732), London (0.747), and Copenhagen (0.826) will give early morning risers an excellent opportunity to photograph the sunrise eclipse with interesting foreground scenery.
Greatest eclipse occurs at 08:50:35 UT in northern Sweden where the eclipse in the horizon will have a magnitude of 0.858. At that time, the axis of the Moon's shadow will pass a mere 510 km above Earth's surface. Most of northern Africa, the Middle East and Central Asia also lie in the penumbra's path.
For safety, observers should not look at the sun without special filters to prevent eye damage. The Solar Eclipse will last three hours.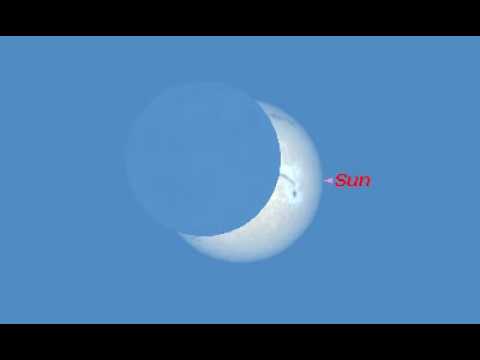 Our users have shown interest in: