Metal heads, horror freaks and hardcore action gamers, unite! Rick Taylor and the Terror Mask are back, tearing, cutting and beating their way through inhuman abominations and hordes of the undead in a tale of love, mutilation and near-insanity. A wall of metal tunes underscores blood-soaked battles with massive bosses, brutal weapons, over-the-top gore and real-time regeneration. And while your ears are ringing, a new Splatterkill System lets you get your hands bloody!
Splatterhouse has never really been a great franchise, but it earned its cult following thanks to obscene content, disturbing creature designs, and a Lovecraft-inspired aesthetic. Splatterhouse is aimed squarely at fans of over-the-top metal and slasher films. That's not a bad thing. The opening cinematic tells the story of how a nebbish college kid loses his girl, and apparently his intestines, and then puts on the Terror Mask to turn into a hulking slab of muscle that can rip apart other monsters with its bare hands.
In the game, Rick Taylor is dead after his girlfriend is capture. A mysterious mask calls to Rick to put on the mask to save his life. Rick's soul is owned by the demon until he rescues his girlfriend. Splatterhouse includes an arsenal of moves to pummel demonic enemies, from light and heavy attacks to 2 x 4s to Splatterkills that dismember.
Content-wise, there's a decent amount to get through, even away from the eight-hour campaign mode. With inspiration gained from the original arcade hit, Splatterhouse not only features a main campaign and a survival arena (where you have to fend off waves of monsters) but when you complete it you also unlock ports of the three original arcade games. Needless to say, the gameplay in these retro outings feels quite dated compared to modern day brawlers, but it's a good chance to relive some of those memories, or discover why Splatterhouse became one of the first console games to come with a parent advisory warning. In a throwback to those days, Namco has also included some 2D side scrolling, platform sections in the main campaign that break up the constant brawling and tough boss battles rather nicely.
Enemies are not only aggressive, they are more than capable of dealing huge amounts of damage. There are regular opponents in this game that can slice Rick to ribbons in three slashes. It's actually pretty damn fun once you get used to it, even if it causes much swearing at the television. Enemies don't rely on cheap shots, but when they hit, they hit hard. Despite being a mindless beat 'em up, there's a little strategy to be found under all the blood once you start meeting tougher enemies, as simply hammering the punch button just won't do.
Each phase of the game will take around 30 minutes, with the overall experience clocking in at around 6 hours. But there's at least some form of replay value in the form of Survival Mode. There are quite a few of these to choose from and they'll pit you against 20 waves of increasingly hard enemies. On top of this, there are secret challenges that you'll need to perform, like, don't take damage for a minute. Through doing these and throughout the main story, there are also some saucy pictures of Rick's girlfriend to find.
Click here to Splatterhouse for XBox 360 or PS3 it from Amazon.
Check out Splatterhouse Preview Video,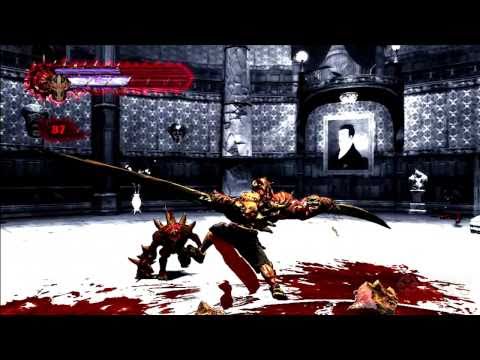 Our users have shown interest in:
rick taylor splatterhouse