PhoneArena presents a thorough comparison of the LG Quantum and Samsung Focus. In this comparison we're going to pit the LG Quantum against Samsung's solid offering in the form of the Focus. On one hand, the Samsung Focus stands highly on its pedestal thanks to its gorgeous Super AMOLED display, while the LG Quantum offers the convenience of a physical QWERTY keyboard.
But when both are priced evenly at $199.99 with a contract, there can only be one that reigns supreme in the aftermath – leaving one to fend for itself when the dust settles. With that in mind, we take a meticulous look at what each device has to bring to the table. Visually, the two handsets have that slate look on the surface, but the LG Quantum actually utilizes a landscape sliding form factor that tucks away a keyboard. Although neither come off as not being seen as original, their designs are mostly recycled over from previous devices. Between the two, the Samsung Focus feels more bearable to carry around thanks to its streamlined looks (0.39" thickness) and light weight form factor (4.07 oz). Conversely, the LG Quantum's 0.60" thick body and heavy load (6.21 oz) is more than recognizable when placed in a pocket.
Furthermore, viewing angles aren't a problem for the Focus which makes it more superior to use in direct sunlight. But with the Quantum, the color black has a slight smokey look to it versus the pure black level exhibited with the Focus. Regardless of that, their touchscreens are more than ideal in accurately registering all of our touches.
Check out LG Quantum vs Samsung Focus Comparison Video,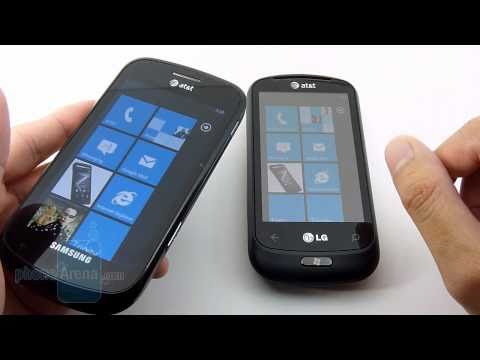 Our users have shown interest in: