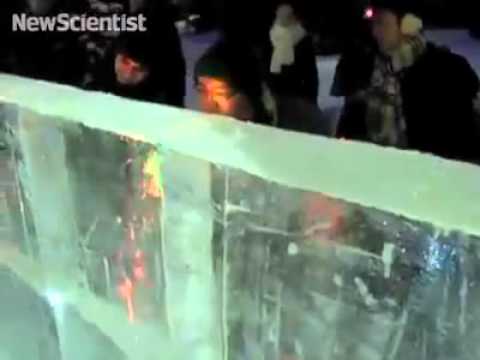 Researchers from the Nokia Research Center in Tampere, Finland, have turned a wall of ice into a huge interactive touchscreen display. Using infrared emitters and detectors to determine hand location and movement, the team projected images onto the blocks of ice so that users could see flames behind their hands. Happily, users didn't need to worry about catching a chill from icy fingers as the setup managed to keep track of gloved as well as ungloved hands
Of course, it is not a fully functional device, neither is it something you can find in your local gadget store, but the screen is being seen as a step towards an era in which the surfaces around us gain computing capabilities.
"This was a playful experiment, but one that we think showed interactive computing interfaces can now be built anywhere," says Jyri Huopaniemi at Nokia's research lab in Tampere, whose team built the touchscreen, dubbed Ubice, or ubiquitous ice.
Finland has a tradition of building snow and ice sculptures during its long winter. It was these that inspired the device, says Antti Virolainen, a member of the Nokia team. "We decided to see if we could make an ice sculpture that was interactive."
The team commissioned a firm in nearby Oulu to retrieve a tonne of 25-centimetre-thick river ice, and used a chainsaw to cut it into 50-centimetre-square slabs. They used these to make a 2-metre by 1.5-metre ice wall and then blasted the surface with a heat gun – more typically used for stripping paint – to create a smooth surface.
These blocks were assembled into a 2 x 1.5 m (6.5 x 4.92-feet) wall of ice, applying water or snow at the joints. The front surface was then blasted with a heat gun – like the ones used to strip paint – to provide a smooth, uniform tactile interface for the multi-touch display.
Behind the wall, the researchers pointed near-infrared light illuminators toward the wall and then positioned an array of infrared cameras pointing through the ice to focus on the front surface. Anyone placing a hand on the front of the ubiquitous ice – or Ubice – surface caused light to reflect towards the camera array and a computer translated the signals from each camera in the array into the precise location, size and motion of the hand. The computer then sent the results to a projector where such things as flames were made to appear beneath the user's hand.
The table uses the principle of rear diffused illumination (a technique first used by Microsoft in its table-based interactive touchscreen, Surface, launched in 2008), with IR lights illuminating the surface from below. The team made their wall an interactive one by using digital projection technology, rather than peppering the ice with sensors that would raise the cost of the installation.
"It was -15 °C out there so it was very interesting to show ice on fire," says Virolainen. "It wouldn't have been anywhere near as interesting with a plastic screen."