The T-Mobile my Touch 4G hit store shelves this morning. This model is one of this carrier's first high-end Android OS-based smartphones, and and is its first with a front-facing camera. Beyond the network speed, the HTC myTouch 4G also offers a front-facing camera for video chat over Wi-Fi and 3G/4G; hotspot support for up to four devices; has a bright, rich 3.8″ LCD display; and it runs the newest version of Android 2.2.1, with support for Flash web browsing.
The MyTouch 4G's display is very bright, crisp and clear with vivid colors. That said, the T-Mobile G2's display is slightly sharper, while the MyTouch 4G's display is brighter. Also, the G2 has better viewing angles than the MyTouch 4G. When you look at the MyTouch 4G from the side, the screen looks washed out, but when using it straight on, the display is great. Colors do really pop on the MyTouch 4G but some colors did seem little off – for example, reds can appear pinkish. All in all, the MyTouch 4G display is not quite the best display out there on a smartphone, but it's still excellent and easy on the eyes.
Text is entered with an in-screen keyboard, and users have the option to use Swype. The myTouch 4G is running Android 2.2.1 with support for Flash during web browsing. And thank goodness. There are those out there who claim that you don't need Flash except for watching videos, so it's not that important. Those people are wrong. Many sites use Flash components for navigation or to display information, and I'm constantly frustrated by its absence in the iPhone and most Android phones. It has support for T-Mobile's HSPA+ service, which means it is able to wirelessly transfer data fast enough to rival or surpass current 4G networks. It also has Wi-Fi, and users are able to make calls over Wi-Fi or 3G.
The HTC 7 Surround has a 5MP camera with an LED flash and takes 720p HD video. For those that want it, there is also a front-facing camera—a first for T-Mobile—that lets you do face-to-face video chat over either Wi-Fi or 3G/4G using Qik. I can't say that I was overly impressed with the quality of the chat, and don't value this feature highly for myself, but if you're into chatting it up over video from your cell phone, the myTouch 4G provides it.
The MyTouch 4G is T-Mobile's second 4G phone, with the first being the T-Mobile G2. Browsing web sites on the device is a speedy and enjoyable experience. The web browser has support for FlashPlayer 10.1 which performs pretty well on 4G. The SpeedTest.net app revealed that the phone has an average of about 6500kbps download speeds and 1300kbps upload speeds when we tested in Midtown East in New York City.
Available in black, white, plum, or red, the MyTouch 4G measures 4.8" x 2.44" x 0.43 and weighs 5 ounces. The phone is quite good looking, and we're particular fond of the white one. You can best describe the design of the MyTouch 4G as being fun. Overall, the build quality is very good, if not quite as professional looking as the G2. The device is also very comfortable to hold and grip in your hand when making calls. On the right side of the device there is a dedicated camera button, on the top left – volume keys, and the front face has dedicated Home, Menu, Back buttons, along with a dedicated "Genius" button. The device also sports a very responsive optical trackpad – although T-Mobile calls it an optical joystick.
If you want to grab the newly released T-Mobile myTouch 4G  and use it on the nation's largest "4G network," you don't have to pour out 200 bucks. Three retailers are already cutting the price down to $79.99. Of course, a two-year contract is still required but at least you get to keep $120 right from the bat. The three retailers providing such a deal are Wirefly, RadioShack and Target Mobile, and yes – you should check them out if you're a T-Mo customer looking for some fast (HSPA+ fast) Android all-touchscreen love.
According to the review of Helena Stone of Chipchick, "The T-Mobile MyTouch 4G really surprised us. We were expecting just an incremental update to the original MyTouch 3G. Instead we have been wowed with a powerful, well rounded, feature rich, and multimedia centric device. We find that the interface enhancements that T-Mobile has made to Android 2.2, along with the inclusion of HTC Sense is very welcome, as are many of the bundled apps. That said, the MyTouch 4G is definitely not one for the Android purists who will prefer the G2. Some might consider the software bundled with the MyTouch 4G to be bloatware, but we consider it to be apart of what makes the device stand out."
"In comparison, the T-Mobile G2 we recently reviewed, feels like it's somewhat more of a business type phone, and could be very suitable for those weaning themselves off of a BlackBerry device. The MyTouch 4G on the other hand is all about extra features and making intuitive refinements to Froyo – which we consider to be awesome. But to each their own – my co-editor uses a T-Mobile G2 and wouldn't give up her comfy keyboard and stock Android OS for the world. I on the other hand can live without a slide-out QWERTY keyboard and prefer the HTC Sense inclusion and T-Mobile's own refinements to Android. Overall, When it comes to a skin overlay for Android, we consider the MyTouch 4G to be leading the pack."
Check out T-Mobile myTouch 4G Review video,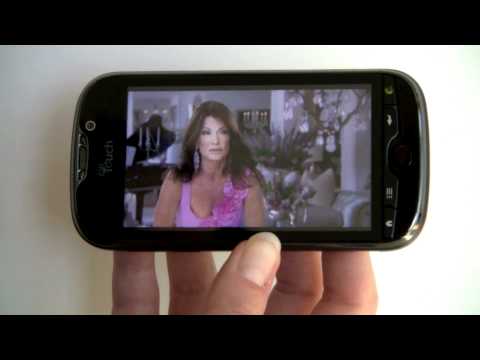 Our users have shown interest in:
my touch 4g
my touch
t-mobile my touch 4g
my touch review
t-mobile my touch
My touch t Mobile
mytouch 4g
reviews for a my touch 4g