The Sony PRS-350 is Sony's second generation "Pocket Edition" ebook reader. Like its predecessor the PRS-300, the PRS-350 is marketed as an ereader that can fit in your pocket, and this new model is even smaller than the last. It measures 5.75″ x 4.13″ x .34″ and weighs a mere 5 and a half ounces—that's about half an inch shorter and over 2 ounces lighter than the previous model. It really is surprisingly small and light the first time you see it.
The PRS-350 has something of an unattractive name, its physical appearance is anything but. The sleek silver chassis that surrounds the screen looks great, while five sizeable buttons sit along the bottom edge of the device. Although it looks good, we did find the buttons felt a little too plasticky, but thankfully this didn't affect their usability. A pink version of the PRS-350 is also available, should that take your fancy.
Its an e-book reader with E-Ink Corporation's electronic paper display (the same as the Amazon Kindle DX and Kindle 3), 2GB of internal memory (only 1.4GB accessible), a microUSB port and support for e-books and image files; sized at 104.3x145x8.5 mm and weighs 155g.
The optical-technology touchscreen uses infrared sensors to detect where your finger is; it compares that information against a matrix that identifies your finger's position and what action you are trying to accomplish, and then performs that action. The result is striking. We found the display brighter and dramatically sharper than Sony's previous touchscreen technology, with better contrast and clarity, as well as crisp grayscale images.
The PRS 350 allows you to read your eBooks with 6 different font sizes, it starts at small and goes to XXL. Sony seems to give you the font size selection in T-Shirt format. From our experiences we recommend the Medium setting, as it allows lots of text to be displayed on the screen. You also have access during setup to configure the Time Zone, Dictionary Language and localization. It seems Sony only allows the UK and the USA.
The PRS-350 accepts a wide range of formats, and when we put a few PDFs on the device they all worked fine, displaying tables, text and diagrams as intended. The device also supports TXT, RTF and Microsoft Word documents, as well as the EPUB and BBeB e-reader formats. Images can also be displayed – JPEG, GIF, PNG, BMP are all supported – although the greyscale display is not ideal and it is unlikely that many people will use it to show off photos. With decent performance and a compact size, the PRS-350 is likely to appeal to many. However, those after wireless connectivity will certainly be tempted to opt for Amazon's alternative, and at £149 for the 3G+WiFi version of the Kindle 2, it's also cheaper than this Sony Reader.
To Buy Sony Reader PRS-350 Pocket Edition from Amazon, Click Here.
Check out Sony PRS-350 Pocket Edition Review video,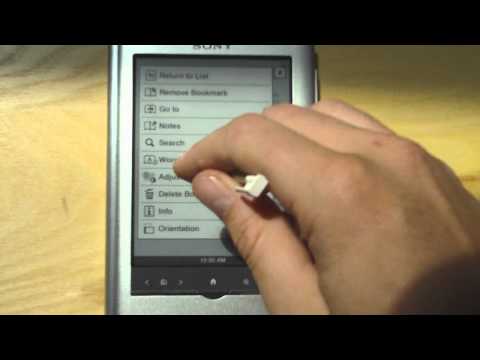 Our users have shown interest in:
sony e reader 350 aanbieding
sony prs-300 e-reader