Need For Speed: Hot Pursuit is a high energy racing game that brings the Need For Speed franchise back to its racing/chasing roots. The game allows players to experience a massive open-world game environment from both the perspective of a racer or a cop bent on shutting down racer. Players on both sides have access to a wide range of real, high-performance vehicles, as well as weapons, equipment and power-ups that heighten the excitement of the race and chase. Additional features include: Need For Speed 'Autolog,' a powerful in-game social media communication system; 1-8 player online support; and leaderboards.
Hot Pursuit is unlikely to be remembered for only one thing though, because it has plenty of memorable tricks up its sleeve. The Career mode, in which you play as both racers and the cops that chase them, seems a relatively standard affair – a series of events spread around Seacrest County that gradually etch memorable routes out of interconnected highways in the desert, on the coast and through the icy mountains, over a variety of event types – but it has numerous supporting struts that give the lie to its simplicity.
Like the last Burnout and Test Drive Unlimited, Need For Speed Hot Pursuit is situated in its own open world driving sandbox. Called seacrets country, it has been designed to be a drivers paradise, with everything from coastal roads, mountain passes, off road and sweeping freeways.Need For Speed Hot Pursuit features licensed cars, in line with the series history, so you'll be careering through forests in police Lamborghinis and so on. This gives it a realistic edge over Burnout, but don't think the driving has got stale.
A bigger impact is made by the "Autolog", which uses your friends list to populate leaderboards for every event and challenges you to beat their times. You can post the results to your "Wall", and like Bizarre's underrated Blur, this social interface adds a welcome extra layer of competition to your single-player exploits – although in this case it opts for its own internal tracking system rather than spamming Facebook and Twitter.
Hot Pursuit isn't a car collecting game. Although you unlock vehicles as you progress, there's no real garage to speak of. The focus is on driving these cars, not upgrading, tweaking or painting them. But that's OK because the list of vehicles in Need For Speed: Hot Pursuit reads like a multi-billionaire's Christmas list. The Bugatti Veyron, McLaren F1, Lamborghini LP 670-4 SuperVeloce, Mercedes SLS AMG, Nissan GT-R SpecV and Porsche Panamera are all here. And that's just a sampling.
Freedrive doesn't affect your career, so all the damage you do to your car will just slide right off (if you choose). It's a great mode for taking perfectly-staged screenshots of your car in action. Unfortunately, there's no way to access the Seacrest County overmap while in Freedrive mode, so you'll have to rely on your smallish mini-map to explore the landscape. It's a bit of a frustration in an otherwise nice addition.
In addition to these automated prompts, you're able to post specific challenges for your friends to take on — say you just beat a race in under a certain time and you want to see if your friends can top it — and they'll appear in your list of event "suggestions." There's also a message board where messages and screenshots can be shared among friends, and an interesting system through which the game will recommend friends of friends to you, in order to expand the online experience.
To buy Need for Speed: Hot Pursuit from Amazon, Click Here.
Check out Need for Speed: Hot Pursuit Gameplay video,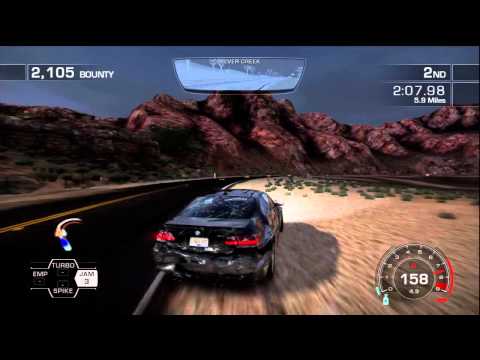 Our users have shown interest in:
need for speed hot pursuit
need for speed hot pursuit fornook