Joy Ride doesn't actually make you move very much. You can even play it sitting down with moderate success. You simply hold your hands out in front of you on an imaginary steering wheel and veer left and right, and your avatar will do the same in its little sportsmobile. Kinect Joy Ride combines the fun of classic karting with the controller-free gameplay of Kinect. Enjoy five different game modes as you race through three unique worlds with stunning landscapes. Navigate obstacles, drift through corners and fly off jumps to wow your opponents with mid-air acrobatics.
Holding out your hands and pretending you're holding a steering wheel is quite the novelty at first and it's one of the best games to show off the potential of Kinect with. Considering the vagaries of how different people try to steer the game it's a real technical wonder and surprisingly consistent. Sticking out your hips to drift, as if you're trying to attract the attention of a passing curb crawler, never ceases to amuse either.
The game offers several game types, including: a "Pro Race," which is your average lap-based race; "Battle Races", similar to pro races, but with weapons; "Smash", a game mode that encourages you to destroy items to increase your score; "Stunt", which ranks you based on the amount of tricks you pull off; "Dash", a time-based race; and "Trick," a Simon-says style where you need to imitate poses on screen. Pro Race and Battle Race are the only modes that can be played online, where they support up to eight players simultaneously. Races are contested on tracks that incorporate plenty of shortcuts, numerous boost pads, and–more often than not–some opportunities to get big air and then perform flips and rolls by leaning as if you're shifting a significant amount of weight in your kart. Stunts earn you additional fans, and although there's no other tangible reward for performing them in the middle of a race, there's also never any danger of you failing to land one and losing time as a result.
There are plenty of extra cars to unlock but they're all almost identical in terms of abilities, while the tracks also lack any real variety. There are quite a few different game modes, including Mario Kart style battle races and stunt challenges, but as soon as you try to do anything more complex than steer left or right things really start to fall apart. Even if this was free it still wouldn't be worth it.
The problem with Kinect Joy Ride is that steering without a wheel is tough enough without the added element of lag introduced by the Kinect's hardware. It is a novelty, and one that wears off quickly. If this game had been included with the Kinect, it would have received a bit of a pass, but since it is a full retail game, it is shockingly light on content. Rather than showing off what the Kinect is capable of, Kinect Joy Ride is an obvious example of a game that would be better if you could play it with a regular controller. It's fun to see your avatar racing around in a muscle car or an ice cream van, but the sad fact is that he or she invariably appears to be having a better time behind the wheel than you.
To Buy Kinect Joy Ride from Amazon, Click Here.
Check out Kinect Joy Ride Official Gameplay Trailer,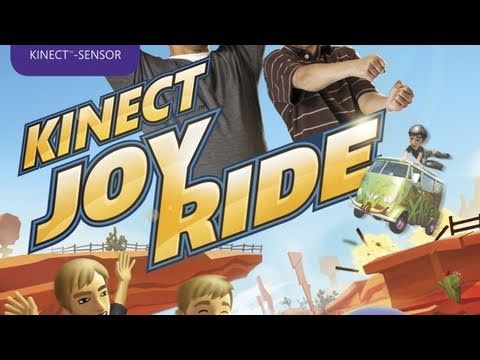 Our users have shown interest in:
Microsoft Kinect Joy Ride