Michael Jackson The Experience is a dance and party game for Wii in which players at all levels can groove right along with the King of Pop. Designed as a complete Michael Jackson gameplay experience, the game features 26 unforgettable hits, authentic choreography, lyrics to each song and visual representations of "The Gloved One" made famous in live performances and music videos for each song. Additional features include: 4-player support, and multiple modes including co-op and competitive as well as a practice mode.
Players can groove like the King of Pop when they play the Michael Jackson: The Experience video game from Ubisoft. Moonwalk along with the legendary performer in this interactive dance game that teaches you to dance in the shoes of Michael Jackson. Coming out on multiple platforms, players can dance, spin, and slide just like the world famous electrifying performer did. No artist in history has commanded the stage like Michael Jackson, the undisputed King of Pop. With over 800 million albums sold worldwide and 13 #1 singles in the US, there is no doubt that Michael Jackson's music influenced pop culture as we know it today. Michael Jackson The Experience is the ultimate performance game featuring the world's ultimate performer – providing an interactive experience that enables players to step into the shoes of Michael Jackson himself and relive his most iconic moments through their own performance.
The game features several different modes, including single player, challenge, and training mode. Challenge mode will let you go one on one or two on two as your friends join in on the fun. Training mode will allow you to practice more complicated moves before you give your big performance. Michael Jackson The Experience is the essential Dance and Party game for fans of the King of Pop. Packed with 26 of Michael's most unforgettable hits including "Billie Jean," "Beat It," "Smooth Criminal" and many more. The game features full 4-player support requiring only a Wii Remote for each player. Your Wii registers the movements of each Wii Remote as players follow a series of small on-screen silhouetted prompts, or those of the King himself as they work through authentic choreography from both famous Michael Jackson live and music video performances. Individual player performances are rated in real-time on-screen and lyrics are streamed as you play for full effect and aid of your timing. The game features a variety of modes including single player, a challenge mode featuring 1-on-1 and 2-on-2 support and a practice mode in which anybody can learn to groove like the King of Pop.
Perfect for parties and individuals alike, Michael Jackson: The Experience will liven up your next party as you and your friends can step into the shoes of the iconic Michael Jackson and dance the night away. The Wii, PSP, and DS release is expected November 23, 2010, while the versions for the Xbox Kinect and the Play Station Move will be released in early 2011.
To Buy Michael Jackson The Experience for Wii/XBox 360 or DS from Amazon, Click Here.
Check out Michael Jackson The Experience Official Trailer Video,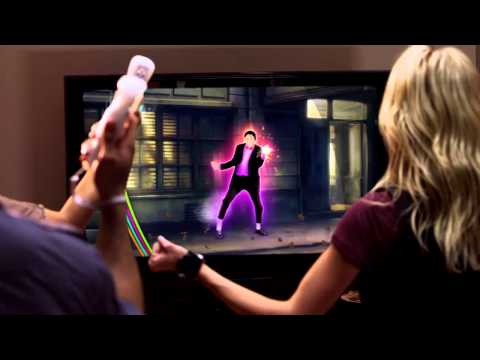 Our users have shown interest in:
kinect michael jackson the experience