Microsoft's answer to Wii Sports, Kinect Sports is probably going to be the premiere party game for Kinect owners. As you might expect with a title like Kinect Sports, the game's focus in on a variety of sports-related games, including: soccer, bowling, beach volleyball, boxing, table tennis, and track & field.
Each game has its own style of play, but each involve a form of competition that will appeal to people that picked up the Kinect thinking it to be a rival to the Wii. The graphics in Kinect Sports do an excellent job conveying the upbeat and vibrant world Rare has crafted for their avatars. Your avatar has ample opportunity to mimic your motions and it can be entertaining to watch your avatar perform an impromptu dance. inect Sports embodies Microsoft's push to target the casual market with the Kinect and its related launch games. Not only does Kinect Sports use the new motion sensing camera in a variety of ways for the activities but the game also makes use of Rare's avatar system. They are front row and center in Kinect Sports – serving as both the players, spectators and commentators. As you begin each session of Kinect Sports you are asked to select an avatar to represent you in one of the six available games.
The audio in Kinect Sports is a mix of upbeat tunes and pre-recorded British narration. The announcers do a good job calling the action as it happens. Sometimes they will break the fourth wall and proclaim that "Kinect sets your hands free" and other puns. It is this aspect of the narration where Rare's trademark humor really shines.
While you can play solo, the games are really made for multiple players. There is even a "party play" option, which lets up to four players chose sides and play two-on-two battles of random game types. When you are playing with others, the game can be fun, but in terms of technical specs, Kinect Sports unfortunately highlights a few of the shortcomings of the Kinect.
Features:
Become a multisport athlete. "Kinect Sports" features six team-based and individual sports — soccer, beach volleyball, bowling, table tennis, track and field, and boxing — with many challenges for each experience. Getting into the game is as easy as stepping in front of your TV.
Take one for the team. "Kinect Sports" includes a variety of fun game modes for solo, cooperative and competitive play with levels to encourage and challenge players of all ages and skill sets. Sports Party mode allows you to compete against a friend, rally a whole room full of players into teams, with everyone jumping in and out to catch a breath, or bring your team to victory.
Live your sports star dreams. "Kinect Sports" puts your avatar in the spotlight and lets you experience what it is like to be a world-famous sports star. Bask in the glow of the paparazzi fervor with your teammates after a big victory and deck out your avatar with stylish rewards for your proudest gameplay feats.
To Buy Kinect Sports from Amazon, Click Here.
Check out Kinect Sports Review video,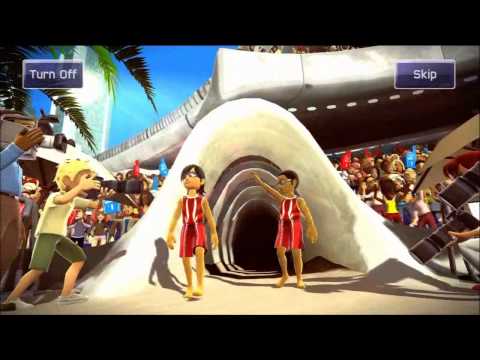 Our users have shown interest in:
kinect sports
kinect sport
xbox sports