Kik Messenger is a new app for instant messaging. Much like the classic BlackBerry messenger, Kik Messenger offers the ability to chat with all the existing smartphone platforms (iPhone, Android) the only requirement is to have this application installed, an account and add your own friends. The program is very similar to Blackbery, PingChat and Messenger, but more thant these, it is compatible with iOS, Blackberry and Android platforms.
The service re-launched about two weeks ago and quickly jumped from 0 to 1,000,000 users: "What an incredible couple of weeks. We re-launched Kik Messenger 15 days ago with 0 users, and at 12:43 PM EST today, we signed up our 1,000,000th user. We didn't expect this. We didn't ask for it. But we couldn't be happier or more excited. We are humbled and honoured that so many people around the world have embraced Kik. For that, we can only say thank you to all our users. Every hour, 25,000 more people are discovering that Kik's blazing fast, reliable and inexpensive data messaging is light years ahead of slow, unreliable, and expensive SMS messaging."
Not enough PingChat WhatsApp and now the young Canadian Interactive KiK messenger that propose a new multi-platform messenger. This is KiK Messenger, who like the same note, in RIM's App World is already the most downloaded BlackBerry Messenger itself. To send a message through Messenger Kik we must only know the user name of another person. The application has support 'Push', by which messages are instantly notified and there is not necessary that the other user is "online" as in a standard messaging client. It works great as an alternative to SMS, and we can use it through a WiFi connection or through our data plan. Kik Messenger is available for iPhone, iPod Touch, BlackBerry and Android phones.
Kik Messenger isn't as full featured as BBM, but it does execute the deliver/read feature quite well. Messages are sent and received extremely fast and deliver/read notifications appear next to messages just like in BBM. Kik can receive messages even when it isn't running in the foreground, on all three platforms. On BlackBerry and Android phones, the app runs in the background. On iPhones, it uses Apple's push notifications service to alert users to new messages. Kik Messenger is a great alternative to SMS, and can be used through a WiFi connection or through our data plan. The program also offers the possibility to send files, group chat or send one's location.
You can Download the Kik Messenger from the following link,
Take a look at Kik Messenger for iPhone, BlackBerry and Android Video Review,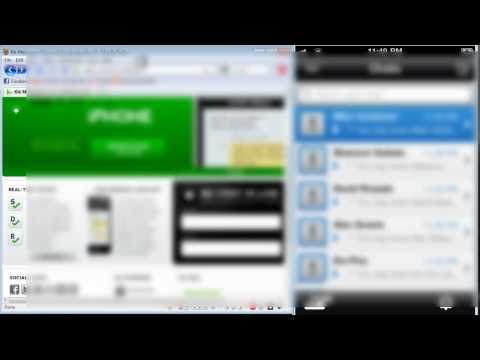 Our users have shown interest in:
kik messenger
is kik traceable
add kik messenger to my nintendo dsi
kik messenger pof