Microsoft Surface, which creates a full Windows experience on a tabletop, has been around for years, but has never really got out of the realm of weird ideas. Suddenly, though, table-sized displays are in vogue, and there is even an iPhone version, Table Connect. Table Connect for iPhone is still in early development but it gives you full control of your iPhone 4 or 3GS on a 58″ capacitive multitouch surface. Not sure what they are going to do with it but it would be cool if this would take on the Microsoft Surface in some way.
It's not an official Apple product of course, but it could certainly overshadow Surface. It hooks up an iPhone – which has to be 'jailbroken' (but as we know, that's legal now) – to the huge 58-inch table, via a 30-pin dock connector. This creates a vast iPhone display complete with full multitouch and the ability to run all those apps and videos on a massive scale.
Once docked, the entire contents of the phone's screen get projected onto the table, using an application called Table Connect. The 'table' itself has a capacitive LED surface supporting full high definition video. Because of its size, multitouch translates into multiperson, with the screen able to respond to contact from many people around the display.
Still, the idea of multitouch on steroids–Cupertino style–should get Apple fanboys salivating to get their mitts on one. According to Engadget, the magic begins when the iPhone is docked and the entire contents of the screen get projected onto the full-HD capacitive LED table via the Table Connect app. It's not just supersized multitouch, it's multiperson touch. The Web site states that the prototype table is compatible with iOS4, iPhone 4, and iPhone 3Gs, but gives no clue as to pricing.
Check out the iPhone Table Connect demonstration video,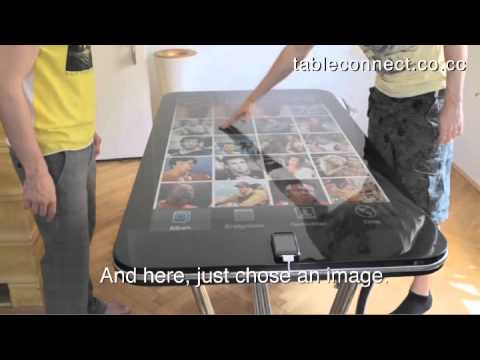 Our users have shown interest in:
connect microsoft surface internet apple i phone
windows surface connect iphone