Table Connect, a rather wonderful-looking hardware hack which connects an iPhone to a 58-inch capacitive multi-touch display, allowing full control of the iPhone's navigation functions, only using hands instead of fingers. The table computer is a 58 inch capacitive touchscreen laying flat. It has a dock connector built in and supposedly allows users to open up an app on the iPhone and have the iPhone pushed over to the table computer.
The makers of Table Connect say it's compatible with iOS 4 and offers access to iPhone apps and features like multi-touch and multitasking. The phone has to be jailbroken and a dedicated app installed. That done, plug your iPhone 4 or 3GS in via the standard connector cable, and you'll be able to swoosh your arms around, browsing the Web with an insouciant fingertip, swiping through apps with a flick of the wrist, and resizing photos by spreading your arms.
The display table operates in conjunction with an application running on the iPhone. However, comments on the video mention that it looks like when the guy launches the "special app" he also presses the sleep/wake button on the iPhone. I must admit the move made to launch the app is not a natural one and you can clearly see another finger touching the top of the iPhone before its screen goes blank and the table begins "loading up."
But Still There are a few problems with the presentation though in that first off, it has a large 58 inch capacitive touchscreen with no bezel… quite hard to come by if at all possible at the moment. Also a few people have spotted that at 14 seconds in to the clip, the power button is pressed on the iPhone by the small finger secretly. Also some people think the pinch to zoom effects are a little off indicating it could be just a telly playing back a video.
Regardless of whether the video is fake or not it is a fantastic idea for a product and one which would be a nice addition to any Apple home. If these guys are genuinely working on a table I think they just shot their credibility with this video if it has been staged. You be the judge. The best-known multi-touch table is the Microsoft Surface, which has competition from the Epson X-Desk. Hyundai is also working on a 70-inch multi-touch table concept.
Check out the iPhone Table Connect demonstration video,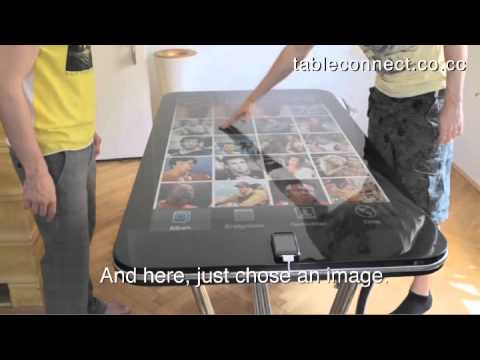 Our users have shown interest in:
laptop connect to gaming table touch screen patent
table touch screen computer
Touch Screen Computer Table
touch screen table apple