Dance Central exclusively for "Kinect" for Xbox 360, is the first real dance game experience that is fun, social and for everyone! Brought to you by Harmonix, the developers who created the world-wide blockbuster Rock Band™, Dance Central is the first immersive dance video game that features and tracks full-body dance moves. Completely free from any controller, every routine has authentic choreography for beginners and experts alike to master, alongside a killer soundtrack that spans today's current pop, hip-hop and R&B artists. Take it step-by-step with Break It Down or jump right in and start performing for your family and friends. Either way, you won't just learn dance moves, you'll own the dance floor!
Dancing, at any level of expertise, is about fluidity; relying upon a device, whether wireless or not, to capture your body's ability to move to music is likely to impair or alter the course of organic movement. Kinect, however, is an entirely different beast. In the case of Dance Central, performance is assessed by how well you're able to mimic the moves onscreen as captured by a camera and motion sensor.
Despite this minor spatial hiccup, once Dance Central was up and running, navigating the interface was relatively painless. The ease of use can be attributed to its limited number of options; essentially, you have three modes of play: Break It Down, Perform It!, and Dance Battle. The overall progression of the game is not unlike Rock Band — all of the songs are grouped according to their relative difficulty, and in order to unlock the final challenge of each section, you have to score at least four stars on Easy for every song in that grouping.
But Harmonix provides an easy transition into every routine. Prior to dancing, you can practice each individual move. Given how clumsy Kinect can feel in other applications, the precision is astonishing. Performing the same move over and over, you'll notice parts of your avatar's body light up if you're not matching them correctly. It isn't just the big moves that are important. To nail it, every muscle in your body needs to be tuned just so. In the same way that playing Rock Band will make you a more skillful listener of music, playing Dance Central teaches you what makes a successful dancer.
Dance Central comes off the shelf with 32 songs and more will become available to be purchased, downloaded and played in the future. The music is the kind you'd expect to find in a compilation CD bought at the supermarket. It ranges from the Beastie Boys to Nelly Fertado, Kylie Minogue and Soulja Boy. The game would really benefit from having some more laid back, entertaining or ridiculous tracks. All songs are available from the start and have been sorted into degrees of difficulty from Warm-up to Hardcore. As you work your way through them, you'll get a real sense of the difficulty curve. At the higher levels you're tasked with increasingly complex sequences that are rotated with greater frequency.
Dance Central is by no means a perfect game. A disappointing multiplayer and a music selection with no real sense of fun detract from the experience. Even so, as a release title there are hours of entertainment to be had alone or with friends.
To Buy Dance Central for X360 from Amazon, Click Here.
Check out Dance Central Video Review,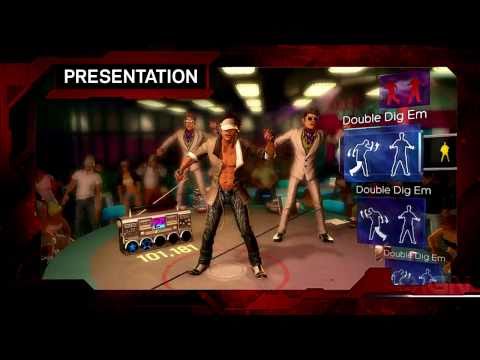 Our users have shown interest in:
xbox kinect dance central reviews