Treyarch has finally released the multiplayer for Call of Duty: Black Ops. A trailer sent out today reveals the new "Wager Match" game modes. "Wager Match" is a completely separate experience from the ranked, progression-based multiplayer. In these new modes, players are betting in-game currency – "COD Points" – on their performance. The top three players in a match get paid while the rest don't.
The best part of Black Ops is of course, multiplayer. Treyarch has done a superb job of re-balancing the perk and weapon sets to ensure that cheap tricks have become a thing of the past. Part of this newfound excellence is the Wager Match mode set, which sees players battling it out for COD Points under very specific rule sets. Join us as we outline the intricacies of Wager Match and provide you with a few tips that will help you get an edge on the field.
Quite simply the best strain of Wager Match is Gun Game, a mode that sees each of the six players starting off with a weak pistol, then cycling through the entire weapon set with each kill. So for example, if you get a kill with the starting pistol, you move up to a six-shooter, then a shotgun, then through the sub machine guns, assault rifles, light machine guns, sniper rifles, rocket launchers and then finally, the ballistic knife. Whoever gets the first kill with the ballistic knife wins the game, or whoever is highest when the timer reaches zero.
Here are the new modes described in the trailer,
* One in the chamber: Everyone has just a pistol with one bullet and three lives. If you kill someone you get a bullet.
* Sticks and stones: You have crossbows and ballistic knives plus a tomahawk. If a player is killed with a tomahawk they go bankrupt.
* Gun Game: A series of progressive weapons, from pistol to shotgun to sniper rifle, granted to the player after kills. First one to progress through the weapons wins. If you get knifed you get reset a level.
* Sharpshooter: Everyone uses the same randomly selected weapon and unlocks perks per kill. Unlock a better gun with each kill…and lose a "level/gun" with each death.
Here is the trailer for Multiplayer Wager Match,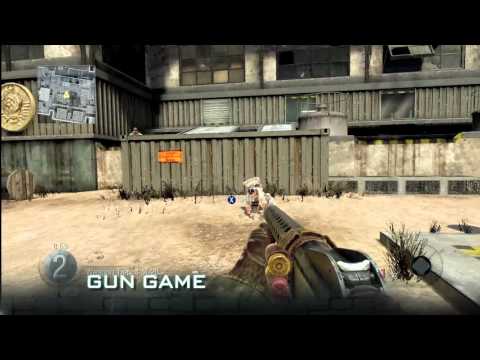 Now you can buy Call Of Duty : Black Ops from Amazon.