RIM has announced a new concept phone, the BlackBerry Empathy that displays the moods of your contacts. It would work by connecting the device to a biometric ring (mood ring) that would monitor and transmit your mood in real time.
The designers were required to integrate an interface into the handset which combines human emotions and social networking. The unique mobile phone has to be used in collaboration with a biometrics ring that is worn by users to collect 'emotional data'. Amusingly, the device flaunts a transparent OLED screen which turns transparent when not in use and opaque during usage. The front side of the handset is entirely a touch surface, while on the back it equips a QWERTY keyboard.
The BlackBerry Empathy was intended to integrate real human emotions with social networking. Co-designer Daniel Yoon explains the mood interface: "Each contact has an avatar that is encompassed by two colored rings. The inner colored ring shows the contact's previous emotional state, and the outer ring represents the contact's current emotional state." It would have an 'Emotional Timeline' that would let you track the moods of yourself and others over time. It would even let you see a person's change in mood after a particular phone call or message.
The social networking aspect reminds me of the BlackBerry Enterprise's Server free/busy lookup – except instead of seeing if your contacts available for a meeting, you can see if they're in the right mood for a call. Some Android phones already do this by showing social network status updates on incoming calls from contacts, but the idea of that data being gathered passively is very new.
There's also a new navigation mechanism based on a radial wheel surrounding contacts, and pinch-zooming to finding bundled people within certain subgroups, which you can see in action in the video below.
The project is part of collaboration with the Art Center College of Design. The Empathy would feature a standard portrait QWERTY design on one side, and a full touchscreen on the other. If this device does get produced, we doubt they'll keep the crystal shape, or that ridiculous keyboard.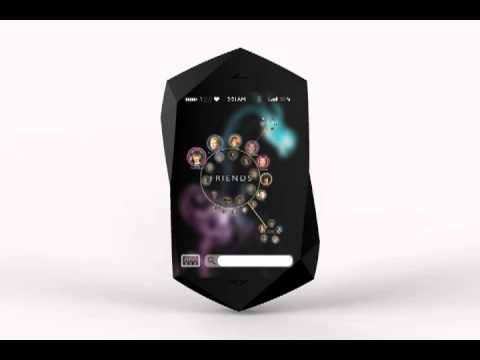 Our users have shown interest in:
blackberry empathy
latest blackberry phone
newest blackberry 2012
blackberry that uses ring
led display screen site
tech mood ringh