The Internet is abuzz this morning with talk of time travel – and it has nothing to do with the 25th anniversary of "Back To The Future" this week. Previously unreleased footage from Charlie Chaplin's 1928 film "The Circus" has everyone talking due to what looks like a woman talking on a cell phone in the background.
A Belfast filmmaker named George Clarke thinks so, based on footage from the 1928 premiere of Charlie Chaplin's "The Circus," where a woman can be seen talking on what appears to be a cellphone. The only explanation, one he acknowledges sounds kind of ridiculous: she's a time traveler.
The scene starts out with the person walking across the screen and holding something to their ear. At this point it looks like it could be anything–their collar, a pack of cigarettes, a makeup case, etc. At the end of the scene, however, they turn slightly toward the camera and you can clearly see that they're talking (or, well, their mouth is moving). The object in their hand is still shrouded in shadow, but now the scene looks a lot more like something you might see on the street today.
Clarke stumbled upon video of the woman — who, for the record, he also suspects may be a man in drag — while watching the DVD extras for "The Circus." In the YouTube video above, which has gone viral in recent days, he says he showed the clip at a film festival in Belfast and 100 people were also convinced that, yes, this mysterious lady in the hat must have come from the future and somehow cruised by Grauman's Chinese Theatre while cameras were capturing the scene.
The description on this YouTube video also lists "ear trumpet" and "pocket model carbon microphone" as possibilities. However, there's also a horse painted to look like a zebra in this scene, so we're not going to bet that everything is as it seems.
We've always been fascinated by the possibility of time travel. The Time Machine by H.G. Wells was a classic on the topic. More recently, Audrey Niffenegger hit it big with The Time Traveler's Wife, a sci-fi love story.
Check out the video, the actual footage begins at 2:37,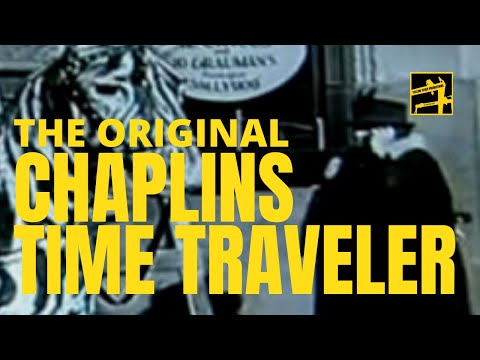 Our users have shown interest in:
yhs-01
what did notebooks look like in 1928