At the developer conference organized by Adobe  this week, the company has demoed the Flash-To-HTML5 converter tool that will let developers easily port their Adobe Flash applications to HTML5 for incorporation on platforms like iOS that do not support Flash. The new Flash-To-HTML5 converter tool codenamed as "Wallaby".
Adobe Flash has taken a beating the last couple of years. First Apple attacked Flash for poor performance, then open tools like HTML5, CSS 3 and JavaScript began stealing much of its thunder, offering video, audio and animation — traditional Flash strongholds — without the need for the free plug-in. While rumors of Flash's demise have been greatly exaggerated, there's no question that, were Flash to remain what it is today, it would eventually be replaced by HTML5 tools.
Adobe's John Nack (product manager for Photoshop) recently blogged  about the demo presentation. In the blog post he includes a video of the presentation and mentions that the effort is in part to cut the cost of targeting multiple runtimes for Web developers. Despite this being a shift in direction toward HTML5, it is highly unlikely this indicates Adobe is going to be dropping Flash or moving away from it. In contrast, this could be an effort by Adobe to bolster Flash as a primary development environment, but opening the opportunity for developers to move their content to HTML5 if they choose.
For Adobe to remain current, then, the company needs to somehow embrace HTML5 by encouraging Flash developers to transition to the new standard while continuing to purchase Adobe products. Unsurprisingly, then, Adobe has just unveiled at the MAX conference this week a new tool that converts Flash animations to HTML5. Here is a video demo of the upcoming tool,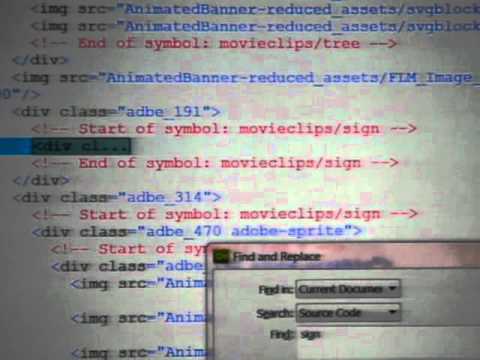 It's just a demo, of course, and it may never become a real product… but clearly at least sections of Adobe are seeing the writing on the wall for Flash. It's true that Adobe is making a strong push to bring Flash 10.1 to pretty much every platform under the sun, but this week's announcements show they are no longer willing to put all of their eggs in the Flash basket: Adobe's Air platform, for example, is now slated to run on everything from tablets to televisions, and this tool — should Flash finally be declared D.O.A. — could at least squeeze some last drops of revenue out of the dying standard by allowing developers to translate their old, complicated Flash animations to the new de facto web standard.