Sharp has announced to launch an ultra-mini netbook, called the Sharp NetWalker PC-Z1, in Japan. The Sharp PC-Z1 is a new Mobile Internet Tool that is as easy to handle as a mobile phone and that has performance similar to that of a PC. This ultra-thin PC has a 5-inch 1024×600 touchscreen, with a 68-key keyboard, and CPU runs at 800MHz and 512MB. with 14mm QWERTY keyboard, users can easily type with both hands. and the device weighs just 409 gms and measures 161.4 x 108.7 x 19.7 mm.
Specifications of Sharp PC-Z1 Netwalker :

Installed OS : Linux/Ubuntu*7 9.04 (Smartbook Remix for ARM-based systems, Sharp customized version)
LCD : 5-inch, widescreen TFT LCD (Wide-SVGA resolution, LED backlit, touch-screen)
CPU : i.MX51 multimedia applications processor manufactured by Freescale Semiconductor
Main memory : 512 MB (fixed)
Storage memory : Approx. 4 GB flash memory (user area: approx. 2 GB)
Communications function : Wireless LAN (IEEE 802.11 b/g compatible*10)
Card slot : microSD Memory Card/microSDHC Memory Card x 1*11 (16 GB max.)
Battery operating time : Approx. 10 hours
Dimensions / Weight : Approx. 161.4 (W) x 108.7 (D) x 19.7–24.8 (H) mm (not including protrusions) / Approx. 409 grams

Major Features :
* Next-generation mobile tool provides Internet access and can be used as an electronic dictionary and e-book.*1
* Palmtop-size unit can be used immediately, thanks to a quick launch function.
* 5-inch, Wide-SVGA touch-screen LCD and full keyboard let users enjoy various net services, such as blogs and chats, more comfortably.
* Business documents can be created and edited.
The device will go on sale, in Japan, on September 25, 2009, likely to be priced at approx US $479 and will be available in White, Black, and Red colors. Check Out new price and buy it from Amazon.
Take a look at Sharp PC-Z1 NetWalker video,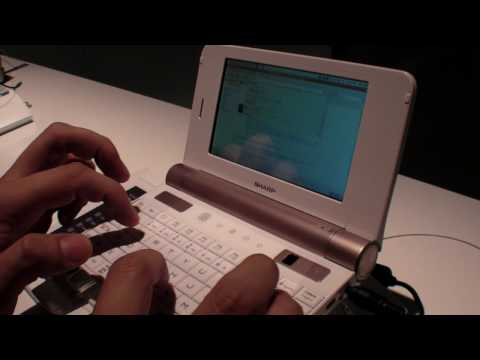 Sharp PC-Z1 NetWalker ARM Freescale based 5″ Smartbook