Motorola officially introduced its first Google Android device: the Motorola CLIQ and its headed to T-Mobile. The announcement was made by Motorola and T-Mobile joined at the Mobilize 09 conference. The Motorola CLIQ is also the first smartphone which using MOTOBLUR – The new Android User Interface developed by Motorola which is packs with some cool features that we already discussed in our previous post. And this MOTOBLUR will helps CLIQ to distinct from other smartphones in the market.
Lets check out Motorola CLIQ specs:
*The Cliq measures 4.49 inches height and 2.28 inches wide
*Thickness is 0.62 inch and weighs 5.6 ounces.
*Features a 3.1-inch HVGA touch screen with a 320×480 pixel resolution
*A slide-out QWERTY keyboard as well as a soft keyboard.
*Also equipped with a 3.5 millimeter headphone jack.
CLIQ will come in two colors, Winter White and Titanium, and have 3G, WiFi, and a five megapixel camera that'll also shoots 24fps video.
Motorola CLIQ will be internationally known as the Motorola DEXT, and it'll be on Orange, Telefonica, and America Movil.
CLIQ will be sold worldwide in 2010 as the Motorola Dext and price details are not yet revealed.
Take a look at Motorola CLIQ Hands-On Video,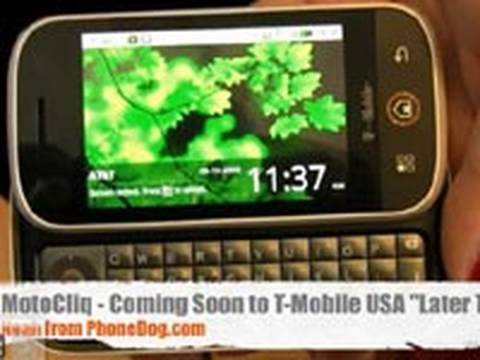 T-Mobile Motorola Cliq Android Phone Hands-On