Medion? is it very strange to heard that word? Anyway its an electronics company based on Japan. Now they are bit famous only because of their new product Medion Akoya "The Touch" X9613. Its a complete PC package with extreamily different in features and style. Lets look at the features of that product,
External Features:
* 24-inch Multitouch Display.
* A Miniature SideShow Screen.
* Large physical Volume Knob.
* A Bunch of Media controls along the Bottom.
Internal Features:
* Intel's 2.0GHz Core 2 Quad Q9000 CPU.
* 4GB of RAM.
* NVIDIA's GeForce GT 240M Graphics Card.
* Blu-Ray Drive.
* 3 TV Tuners (DVB-T, DVB-S and Analog).
* 1 TB Hard Disk Capacity.
and eSATA, S/PDIF, WiFi b/g/n, gigabit ethernet and Bluetooth 2.1, together with a webcam and stereo speakers plus subwoofer…
Now you understand that this product is a actually an All-In-One PC. Lets talk about the value of this sexy complete PC package. The price range, unfortunately, is rather steep at 1,499 to 1,900 Euro (about $2,142 to $2,714 US).
Check out this video,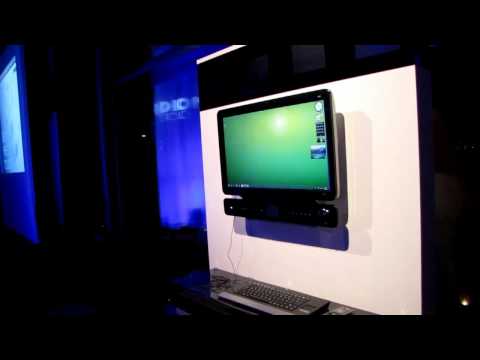 Medion The Touch X9613 Hands-On